Does your refrigerator and pantry look like they might comprise a mysterious basket of "Chopped"? Does it feel like you always have a handful of random ingredients with no particular direction to use them?
If you're constantly looking for ways to use the ingredients you already have on hand, look no further. There's an app for that. In fact, there are many. Here's our roundup of the best apps for finding recipes for ingredients you already have.
1
. SuperCook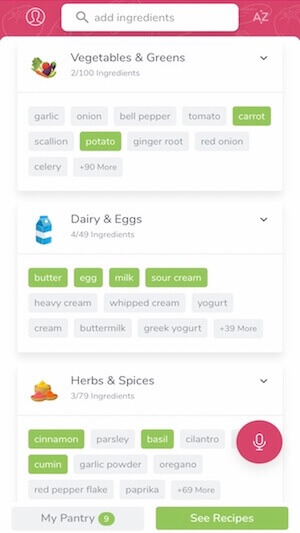 SuperCook is probably the best known application for creating recipes by selecting a group of ingredients. This platform helps you waste less food and eat fantastic meals. It's both a website and an app, so use what's most convenient for you.
The interface is fairly simple to use, with a robust search feature that updates your recipe suggestions as you continue to type in available ingredients.
The app allows you to select ingredients from various categories (such as meat, seasonings, and dairy), and then add more as you go. You can also narrow down your results by selecting the type of food you want to make (such as soups, salads, or stews), and even specifying the type of cuisine and star ingredient.
Once you get into the habit of using SuperCook, you'll probably find yourself selecting many of the same recipes over and over again. Luckily, it can make things even easier for you by saving your favorite ingredients and recipes.
2. Allrecipes Dinner
Spinner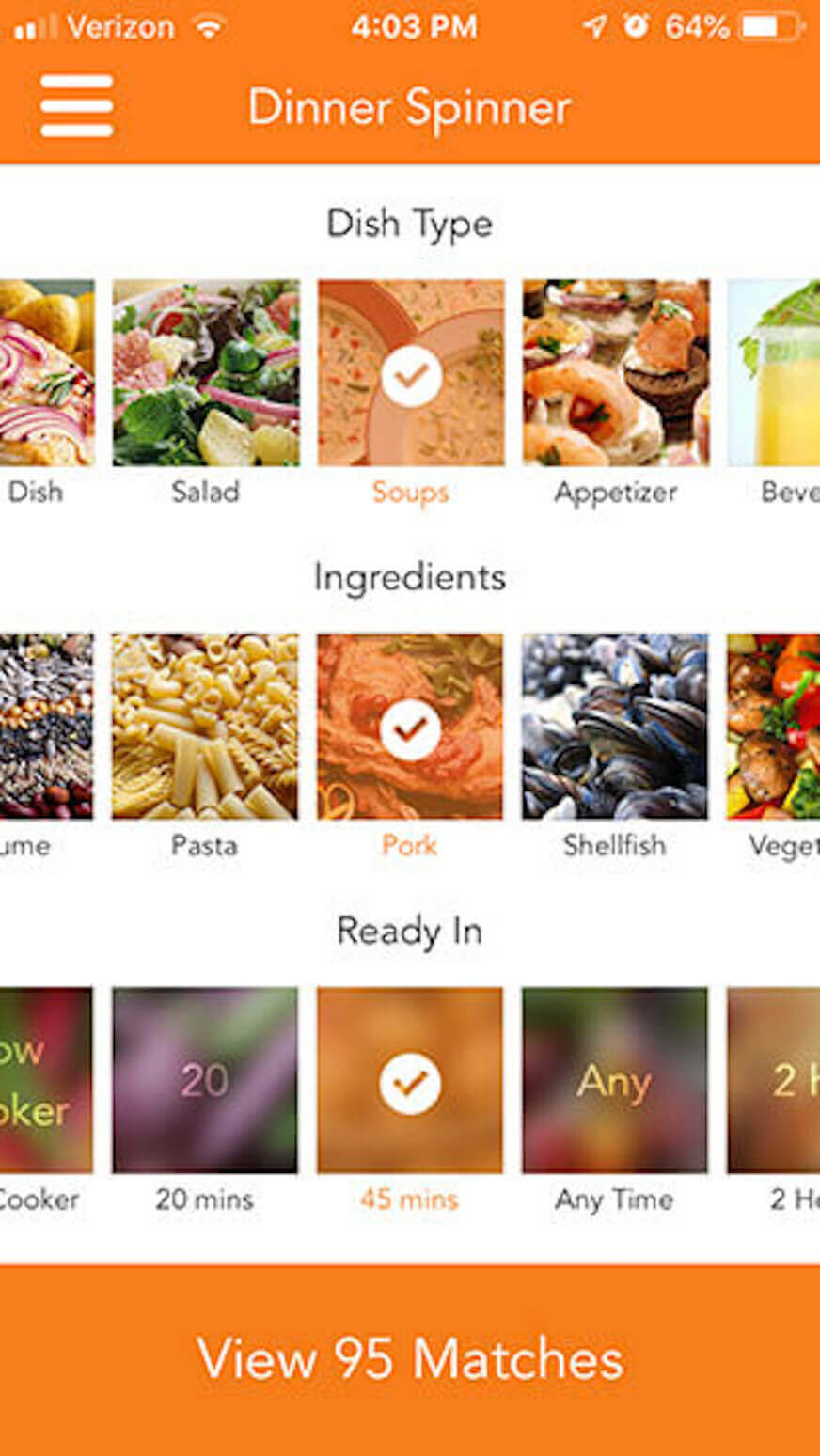 Allrecipes is a popular site that lists recipes by category and makes them easy to search. Recipes are submitted by the website's community of passionate home cooks who share ideas and are then shared with others.
Allrecipes also has an app called Dinner Spinner, which allows you to quickly spin through a combination of options by dish type, available ingredients, and length of time before the meal is ready.
The app allows you to set super specific parameters, listing ingredients to include or omit in recipe results. So, for example, if you don't have chicken in the fridge, you can specify it and the app won't show any recipes containing chicken (even if it has all the other ingredients needed for a certain dish).
And if you create an account, you can save recipes and access them by logging in anywhere, even on your phone, tablet, or computer.
3
. BigOven
With over 1 million recipes in its database, BigOven is certainly, well, big. The application allows you to get inspired by the kitchen with an extensive section of 'Ideas'. Brainstorm options by browsing through fun categories like "Use Up Leftovers," which selects recipes based on ingredient reuse.
There's also a 'Collections' area, which groups recipes into categories like healthy breakfasts, healthy snacks, meat-free, soups, low-carb and more. Most recipes come with nutrition facts that include the number of calories per serving.
The Shopping List section allows you to sort by ingredient and control what you will need to prepare a certain meal. Quickly add items to your list for easy reference the next time you go shopping.
And the Planner lets you create dishes for the future so you don't get stuck trying to compose a meal with random ingredients again. All this, plus instructional recipe videos to boot!
4
. Epicurious
Epicurious was developed by Condé Nast Digital, so it offers tremendous value in terms of form and function.
Not only is the app beautiful to look at, but it's easy to use. Toggle ingredients to find recipe ideas (many of which include photos of the finished dish or instructional videos to help you along the way).
You can efficiently navigate recipes by adding filters like "leftovers" or "dinner," plus any dietary restrictions, such as "gluten-free," "dairy-free," "ketoapt-friendly," etc. When you add the main ingredient you want to search for, the app allows you to sort the list of results with useful criteria like the highest rating or the percentage of users who said they would do it again.
Epicurious also includes a kitchen timer to help you cook ingredients to perfection even without a recipe, and a tool that finds local seasonal ingredients.
5
. Magic Fridge
French app Magic Fridge (or Frigo Magic) is free to use and features nearly 5,000 recipes. Like some of the others, you have the option to specify certain diets, such as vegetarian or vegan, to narrow down the options you suggest.
A unique feature of this app is the "memo" section, which actually gives you nutritional information for each recipe and allows you to check if the ingredients you've selected are in season.
You can make adjustments to the ingredient portions listed based on the number of people eating, and even alter your ingredient amounts later if you have leftovers.
Magic Fridge is a great option for cooks who want to follow a nutritional plan, know all the details about what they're eating, and keep close track of their meals.
6
. Cookpad
Cookpad was founded more than 20 years ago in Japan. Now, the app has more than 100 million users in 23 countries. In addition to English, Cookpad is available in Spanish, French, Italian and 20 other languages.
The app is part recipe finder, part social platform. You can search for recipes by ingredients and share what you're doing with other users.
If you fancy a recipe inventor, you can publish your creations publicly along with ingredients, instructions, and images for others to try. If people like what you're posting, they can follow you. Who knows? You could become the next big food influencer.
Of course, you can follow people who make recipes that match their preferences, and even ask them questions within the app's chat feature.
7
. Tasty
Tasty is an application that incorporates various multimedia to offer a rich user experience. With food videos reminiscent of TikTok and step-by-step instructions you can swipe, it's a useful tool for any tech-loving home cook.
You can also use Tasty to search for recipes to make with ingredients you already have on hand. Look for the ingredients themselves, then add filters like the type of food (healthy dinners, late-night desserts, game-day favorites, and Mexico-inspired ones, to name a few) and add any dietary restrictions.
For easier meals, search for "5 ingredients or less" and "less than 30 minutes." Once you make your selection, the recipe video plays, showing ingredient measurements and other instructions directly on the screen, in sync with the video. For efficiency, videos play at a faster speed, but you can pause and pause videos as you go.
8. America's Test Kitchen
America's
Test Kitchen
(ATK) is America's most beloved home cooking television show, with episodes such as "The Perfect Cookie," "Just Add Apples" and "All Chocolate, All The Time." So, it's no surprise that the ATK app is quickly becoming a digital tool of choice for serious home cooks.
It's only available to members of ATK's online cooking school, but for the passionate culinary it's a great option that's well worth the cost.
The ATK app includes comprehensive courses with special instruction from ATK and Escoffier chefs. So this is an app you'll want to use only when you have time to learn and refine your technique.
Search by main ingredient, such as pasta or vegetables, difficulty level, and recipe type. Keep track of the courses you've completed and take advantage of your exclusive access to world-class chefs and instructors.
Dig deeper with
online recipes and culinary classes Want to make
the most of your kitchen ingredients? Consider taking an online cooking class or getting an unlimited culinary content membership from our library!
In addition to learning how to make a variety of recipes, you'll see valuable culinary techniques you can practice to save yourself time while cooking.
Interested in more culinary fun at home? Check out these articles for inspiration
: How to make
Velouté

How to

make Petit Fours: a brief history and recipes How

to

prepare your own soda
This article was originally published on February 20, 2019 and has since been updated.