This easy recipe of roasted carrots with dill is a simple accompaniment to prepare for any occasion. With 4 simple ingredients, this recipe for baked carrots with dill is very easy to make, perfect for a family dinner, but also elegant enough for holidays like Thanksgiving and Christmas!
This post may contain affiliate links.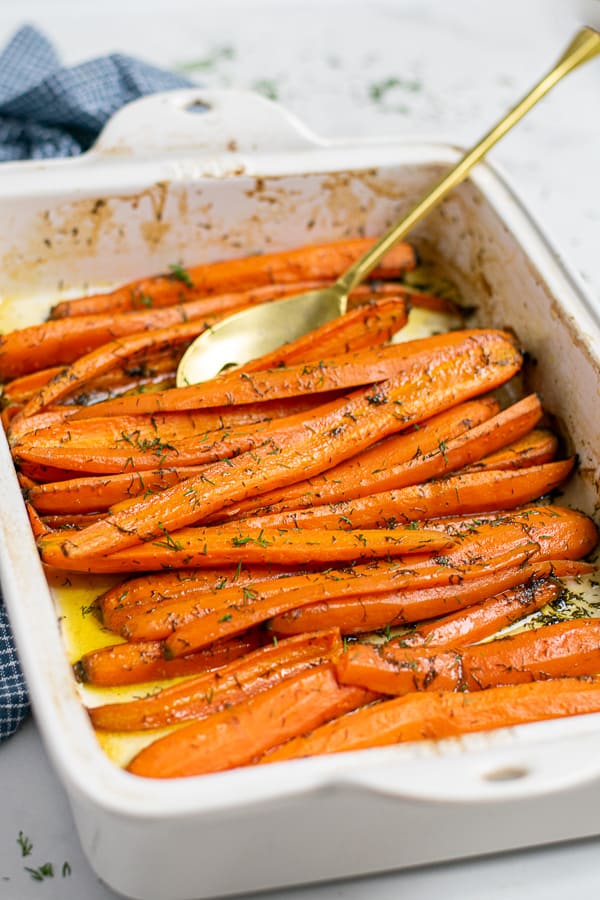 This is one of my favorite dishes of the period. Whether you're doing it for a holiday party or a Sunday dinner, these carrots are my favorite part.
Forget the fancy turkey and ham, all I want are these candy-sweet
carrots!
Now I'm not one to usually add a ton of sugar to my veggies, but when it comes to holiday meals and these carrots, I let go of that rule of mine.
These baked carrots are roasted in butter, brown sugar and fresh dill to create a melt in the mouth! Recipe for roasted carrots with brown sugar and
dill
Now, the first thing I want to point out about this recipe is that I have 2 cooking times, which result in 2 slightly different versions. I know it sounds weird at first, but listen to me.
The first test was at a high temperature, 425º F to be exact. In an ideal world, these are my favorite results. The high temperature keeps cooking time low and results in a slightly crispier exterior and a super smooth interior.
but…
If you're
making these for a holiday meal and cooking other items in your oven simultaneously, you're not going to cook things at 425ºF, particularly a turkey or ham.
So I have a second cooking time at a lower temperature, 325º F which my husband actually said he preferred. At a lower temperature, carrots seem to lose their "crunchiness" a little more than at the higher temperature.
Although in the real world there wasn't a huge difference in the final result,
so whatever cooking time and temperature suits your situation, better use that one!
So if
by chance these carrots are all you need to bake in the oven, I recommend the higher temperature, not only is it a great end result, but they cook much faster
. BUT if you're
roasting a turkey or something similar, you're probably roasting it at 325º F. With this in mind, you can roast these carrots at the same time using the lowest temperature, just remember to put them on time as they take longer to cook.
Roasted carrots with
dill Recipe
This recipe only takes a few simple ingredients:
Carrots
Salted butter Brown sugar
Fresh dill
A
note about carrots. I find that the size of carrots can vary depending on whether you go organic or not, or even what time of year you buy them. So in this recipe I ask that carrots be halved lengthwise, if not carrots usually take too long to cook, but again this is for an average medium-sized carrots in the supermarket.
If you're buying organic or fancy carrots at the store, these will usually but not always be smaller in size, so use your best judgment if you think they're small enough, you can leave them whole.
The opposite happens if you grab a bag in the store and the carrots turn out to be huge! During the holiday season I have noticed that they produce some extra large carrots, without getting too much into that, I suggest cutting the carrots into 4 slices if necessary.
The same kind of thinking about keeping the skin or peeling carrots.
Unless the carrots are organic or fresh from the garden, I will usually peel them. Otherwise, I just give them a quick scrub… Okay, now with the recipe.
Preheat your oven to A)

425ºF or
B) 325ºF, as noted above, you can bake these carrots simultaneously with other foods, just make sure the oven is not cluttered and has room for air to circulate.

Then prepare the sauce. In a microwave-safe bowl add brown sugar and butter. Heat in the microwave for 45 to 60 seconds until the butter melts. Beat the butter and sugar until completely combined. Add the fresh dill and whisk to combine.
Add clean, chopped carrots to a 9×13-inch (or similar size) baking dish. Drizzle the sauce over the carrots and mix the carrots until completely covered.
Cover with aluminum foil and transfer to the oven. Bake at A) 425º for 40 minutes, although throw halfway, uncover and bake another 10 minutes until the carrots are made to your liking.

Or B) 325º for 60 minutes, pulling halfway, uncovering and baking another 15-20 minutes until the carrots are made to your liking.

Remove from oven, lightly sprinkle with sea salt if desired, serve immediately.
Don't be surprised by how many people take seconds of carrots, as I said, these are so good! Perfect for making a family dinner or perfect for holidays like Thanksgiving, Christmas and Easter (they're seriously on my table for all 3).
Some other great sides to accompany these carrots (also known as more perfection for the holidays) are:
Roasted pear and walnut salad Garlic
Parmesan Cauliflower puree

Blueberry

Blueberry Orange Sunflower seed seasoning
Roasted broccoli
How to make a bread tray Snack

Pickle

Rolls Pickle Rolls
Apple Cranberry

Salad with Turkey
src="https://theschmidtywife.com/wp-content/uploads/2019/10/overhead-serving-carrots.jpg" alt="carrots roasted in a white baking dish sprinkled with fresh dill" />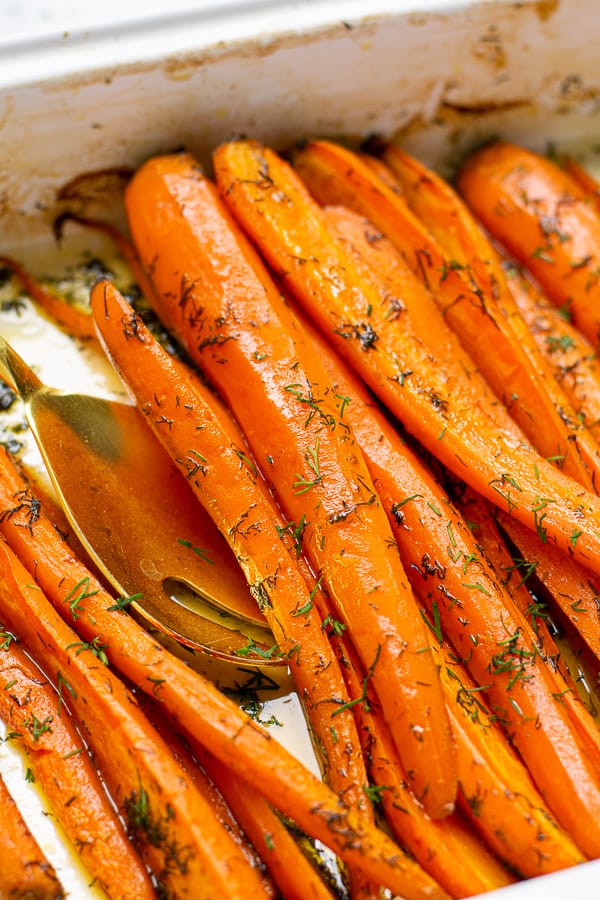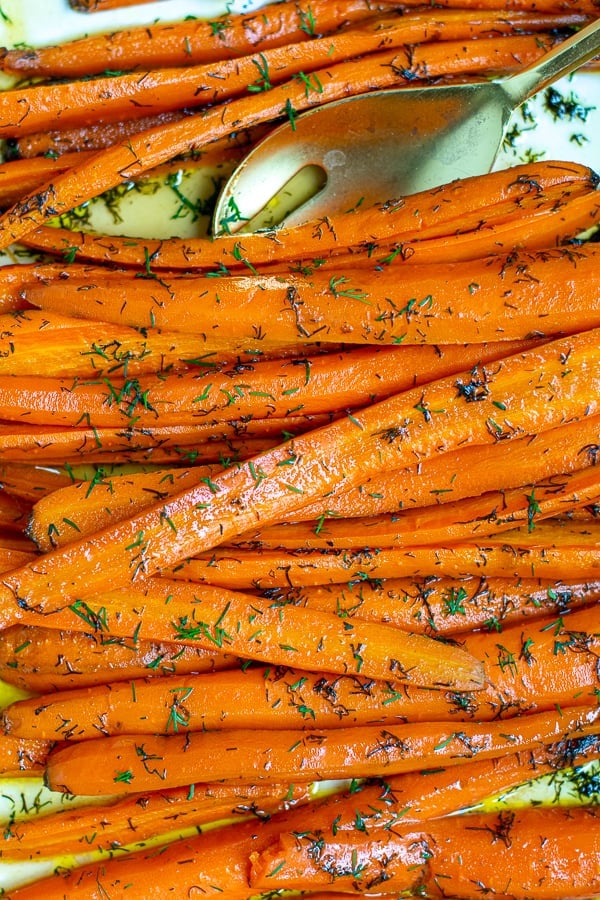 And be sure to follow me on TikTok, Instagram, Pinterest, and Facebook for the latest recipes!
Peace and Love
Lauren, Schmidty's wife